April 20, 2020 | | Author: Robbie
Many of us are working from home at the moment, setting up makeshift offices in various rooms around the house.
The bedroom and living room should be sanctuaries of rest and relaxation, and, if you have a study, it may have been snapped up by your other half or changed into a classroom for your children.
So, where can you get your work done, comfortably and in peace? The kitchen, of course. Almost always the heart of the home, it can double up as the perfect home office – with freshly brewed coffee just a few steps away.
Here are 5 top tips to transform your kitchen into the ideal workspace…
1. Utilise your kitchen island or table
Whether you have a kitchen island or a freestanding table, both make for a great workstation. By necessity, they're highly versatile, acting as the family breakfast spot, entertainment area, and, during working hours, a spacious desk for you.
Whereas kitchen counters tend to be populated by appliances and cooking utensils, the surface of a kitchen island or table is easy to clear for work purposes, transforming back into a hangout zone come evening.
2. Pick the best view
As one of the largest rooms in most homes, the kitchen is filled with natural light – great for keeping you energised throughout the day.
Rather than opting for a seat opposite the fridge or cooker, pick a position with a view out across your garden or the surrounding landscape. By looking up from the screen intermittently, you can give your eyes a rest and resharpen your focus, so why not enjoy a restorative view of nature instead of your toaster?

3. Repurpose your kitchen storage
The kitchen is packed with clever storage solutions for your work materials, from under-counter nooks to spacious cupboards and pantries. Take the time to reshuffle kitchen items, and make room for work equipment, ensuring your home office remains organised and clutter-free.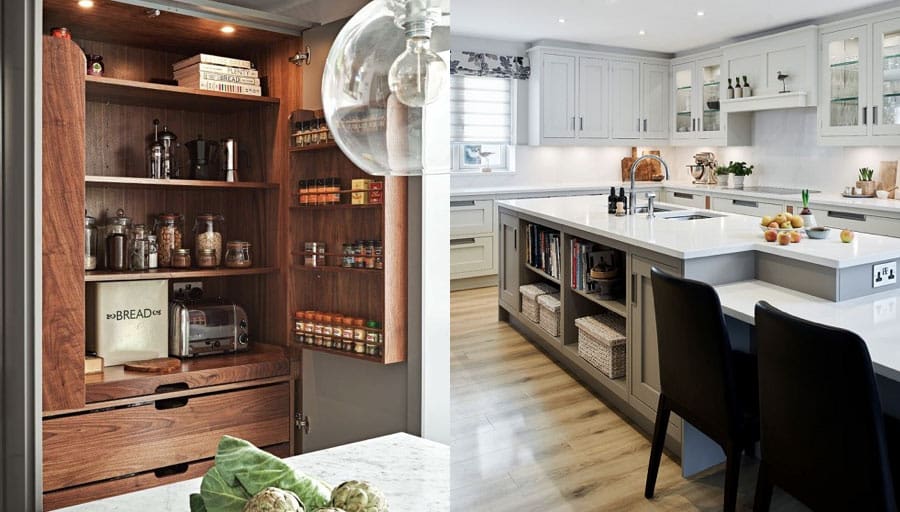 4. Bring the outdoors inside
Create the best possible work environment for yourself by bringing a little bit of the outdoors inside. A vase of fresh flowers or some verdant potted plants can add a splash of colour and natural beauty to your surroundings, lifting your spirits on those days when the hours seem to drag.
5. Create a break area
Throughout the day, it's good to step away from your laptop for a few minutes here and there. While a change of scene will be welcome during your lunch hour, it's worth creating a small 'time-out' area for the occasional breather, somewhere in your kitchen.
You might choose to move an armchair into a cosy corner, or perhaps you've spotted a generous windowsill that's just waiting for a cushion or two. Once you've set it up, you can sit back and relax.

To find out how Cheverell can help you create your dream space, please get in touch with our design team today. We are open for business remotely and telephone or online face-to-face consultations are available.
View all projects