July 13, 2020 | | Author: Robbie
Just like us, interior designers and architects are often sought by clients seeking unique, high-quality design – in the home, hotels, retail spaces, and more.
From hand-made furniture and cabinetry to striking one-offs, the bespoke nature of Cheverell craftsmanship makes us an ideal partner for those working on prestigious projects of all sizes.
Our service is hands-on and dependable, shaped by a love of creative teamwork. Nowhere is this more evident than in our enduring relationship with the exceptional team of interior designers at Julia Blunt Interiors (JBI).
A Cornish collaboration
Cheverell was introduced to JBI by one of their clients, back in 2015. They were managing a large-scale project in Cornwall, designing the interior of a spacious new build.
We were called on to craft bespoke furniture for each room in the property. This included a sociable kitchen and bar area, fitted cabin beds, bedroom wardrobes, vanity units, and cabinetry for the media room.
The end result was vibrant, modern, and airy, marrying JBI's light, bright design with Cheverell's sleek fitted furniture. We've been working together ever since.
"Without a doubt, Cheverell is our go-to for bespoke fitted furniture, kitchens, bedrooms, and bathrooms. We work with them from London right down to Cornwall." – Rosie, Partner at Julia Blunt Interiors.
How we work together…
When working on a project with JBI, we'll start by taking a brief, accompanied by either the builder's or architect's drawings. At this stage, we'll discuss their vision, how the design is going to work for the client, and a "wish list" of practical, workable items, along with the availability of specific samples.
Next is the introduction. We'll meet the client at our showroom – either accompanied by a JBI designer, or alone.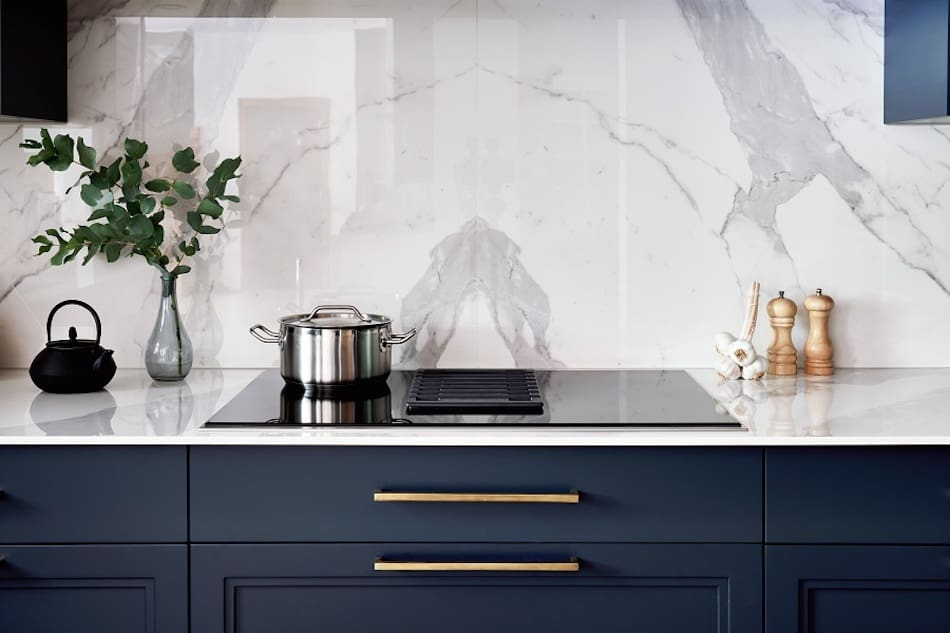 After we've chatted through the requirements, we create a preliminary design and quotation for the fitted furniture, which corresponds with the plan of proposed works.
We will then send our design to JBI – in some cases, this will be one of a few versions, tweaked in collaboration with the client. During this process, JBI might come up with a specific idea and ask us to source additional elements such as flooring or lighting, which we are more than happy to do.
Once the client and JBI are satisfied, the design is commissioned and signed off. We will then begin manufacturing their bespoke furniture, ready for installing once JBI's transformative decorative work is complete.
Bespoke, creative, beautiful
An excellent example of Cheverell and JBI's collaborative process is the Hampshire-based project pictured below. Together, our teams created soft, welcoming, and beautifully furnished spaces.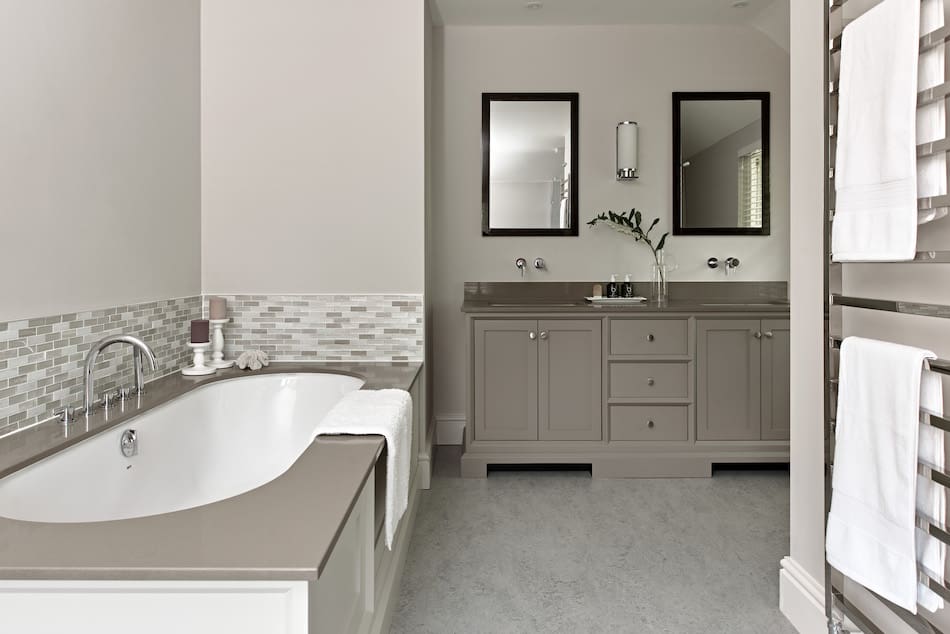 JBI's client had their heart set on a virtual rendering of a kitchen created by a national kitchen company. However, the team at JBI could see this design wouldn't work – the exterior view and quality of natural light depicted in the video were not true to life. They recommended our services to the client.
Working with JBI's stunning design and colour palette, we conceptualised and manufactured bespoke cabinetry that perfectly complemented the structure and feel of the kitchen.
A gorgeous antiqued mirror splashback was fitted behind the hob, amplifying the sense of light and space. We enhanced this with an exquisite piece of white marble effect quartz, which topped the kitchen island.
We also designed and installed furniture for the main dressing room, drawing room, two bedrooms, the main bathroom, and a private study. This included a curved desk, elegant panelling for the bath, and vanity cabinets adorned with handles carefully selected by JBI.
A truly enjoyable partnership
Why do we love working with Julia Blunt Interiors? They're an incredibly knowledgeable, talented, and warm team of interior designers with a deep understanding of their products and their clients.
We've had a lot of fun partnering with them over the years, sharing many a cup of delicious coffee in our Devizes showroom.
In turn, we asked Rosie what attracts JBI to Cheverell…
"Your understanding of the client. Everyone is approached as an individual, nurtured, and attended to with excellent people skills – that's very important to us. You also deliver what you say you're going to deliver, without a doubt. It's a very happy marriage."
We love working with interior designers and architects. If you're interested, please get in touch.
In addition to our bespoke design and joinery work, we're able to provide a comprehensive project management service, incorporating building works, electrics, plumbing, plastering, tiling, flooring, and decoration, upon request.
View all projects