March 13, 2020 | | Author: Robbie
When we say 'bespoke' here at Cheverell, the word means more than 'hand-made' or 'one of a kind'. It means taking the time to really understand what our clients want.
Our latest project, The Garsdon Kitchen, perfectly demonstrates the steps we take to create beautiful, thoughtfully designed spaces. The client had specific health requirements that influenced a great deal of the design process, along with her bold, playful taste in interiors. The result was a truly characterful, gorgeous kitchen she can enjoy for years to come.
A chemical allergy
We've tailored projects to accommodate specific conditions and allergies before, so when our client asked if we could create a kitchen that wouldn't trigger her volatile organic compound (VOC) allergy, we were more than happy to help.
The initial stages of the project were spent understanding the modern, colourful look she had in mind and researching the best paints, lacquers, and materials containing little to no formaldehyde, a commonplace VOC found in products such as paints, lacquers, and upholstery fabrics.
Beautiful, contemporary cabinetry
Our client wanted a sleek, handless kitchen that oozed personality.
When it came to choosing colours for the cabinetry, she had her heart set on Farrow & Ball's 'Brinjal', a rustic aubergine hue, and 'Skimming Stone' a subtle off-white shade. In their original formulation, these paints would have caused her to have an allergic reaction, so we worked with the manufacturer to create water-based matches.
We used allergy-friendly American Black Walnut Veneer with a Tulipwood Ply Core and Medite Ecologique board for the carcasses and doors. These were sprayed and finished with water-based lacquers, stains, and paints with a low level of VOCs, matching our client's brief perfectly.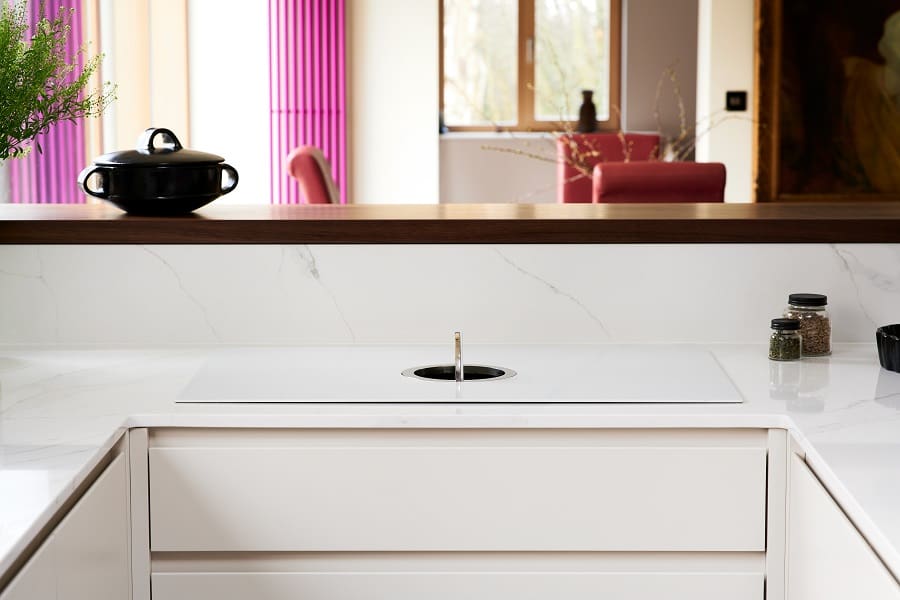 Intelligent design
Most of us practically live in our kitchens, so they need to be designed for real-life: cooking, entertaining, and everything in between.
To create a special space for socialising, we crafted a raised solid walnut worktop – the ideal seating area for casual meals and drinks. Its clever design provides extra cabinet space, hidden beneath the worktop.
Next, we fitted an on-trend white Elica NikolaTesla hob, which uses innovative technology to direct all extraction beneath counters. It blended seamlessly with the exquisite COMPAC Calacatta Quartz worktops we installed (in 'Glace'), accented by the room's rich colour palette.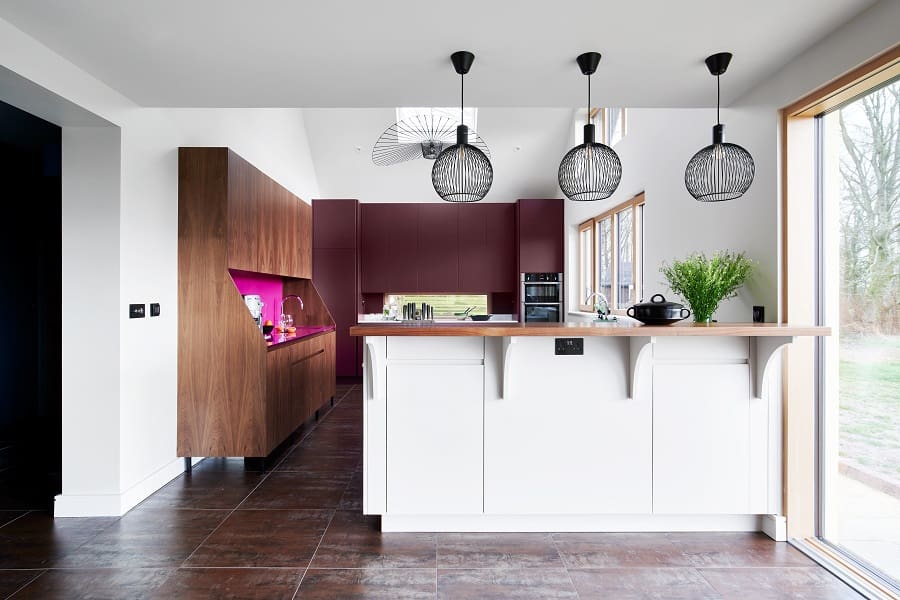 Pops of pink
Visitors to our client's home will notice her love of the colour pink threaded throughout the interior decor – it's her favourite shade.
To reflect this in the kitchen, she commissioned us to design and build a bespoke walnut veneer beverage station, adding gorgeous pops of Opticolour's 'Vivid Pink' to the worktop and splashback, along with a Quooker tap and sink. The radiators were coated in the same bright colour, carrying the theme throughout the room.
A great project – and a lot of fun!
View all projects