June 29, 2020 | | Author: Robbie
An uninspiring kitchen. Clunky, cramped storage setups. Decor that's more tired than uplifting. Stuck inside, most of us have found ourselves noticing all the things calling out for improvement in our homes.
Bespoke cabinetry and clever colour palettes can transform even the most difficult of spaces. To give you a little inspiration, we thought we'd share the story of a stunning home makeover we recently completed.
Going back in time to the 70s
The history behind this project made it a real labour of love. The property we were working on was built by the owner himself, back in the early 70s. He also installed the kitchen in 1974.
We were called on to give the kitchen, utility room, and pantry a total makeover. After an initial onsite meeting, we followed up with a design and quotation for the three rooms.
Transforming what was dark and moody into something so light and airy was a great challenge – one that suited Cheverell through and through. We started from scratch, removing the old kitchen and project managing the electrics, plumbing, plastering, flooring, decoration, and tiling, alongside our design and joinery work.
The marriage of bespoke cabinetry and colour
To open up the space, we started by conceptualising and building bespoke cabinetry for a Country Shaker style kitchen, pantry, and utility room.
We designed the new cabinetry to be compact yet elegant. Unlike its boxy green predecessor, it complements the rooms rather than dominating them, letting in as much natural light as possible.
We completed the cabinetry with a sprayed paint finish in Farrow and Ball's 'Cabbage White', a shade that helps magnify the sense of light and space. This effect is further enhanced by a sleek, glass-panelled cabinet, which we custom-built for the kitchen.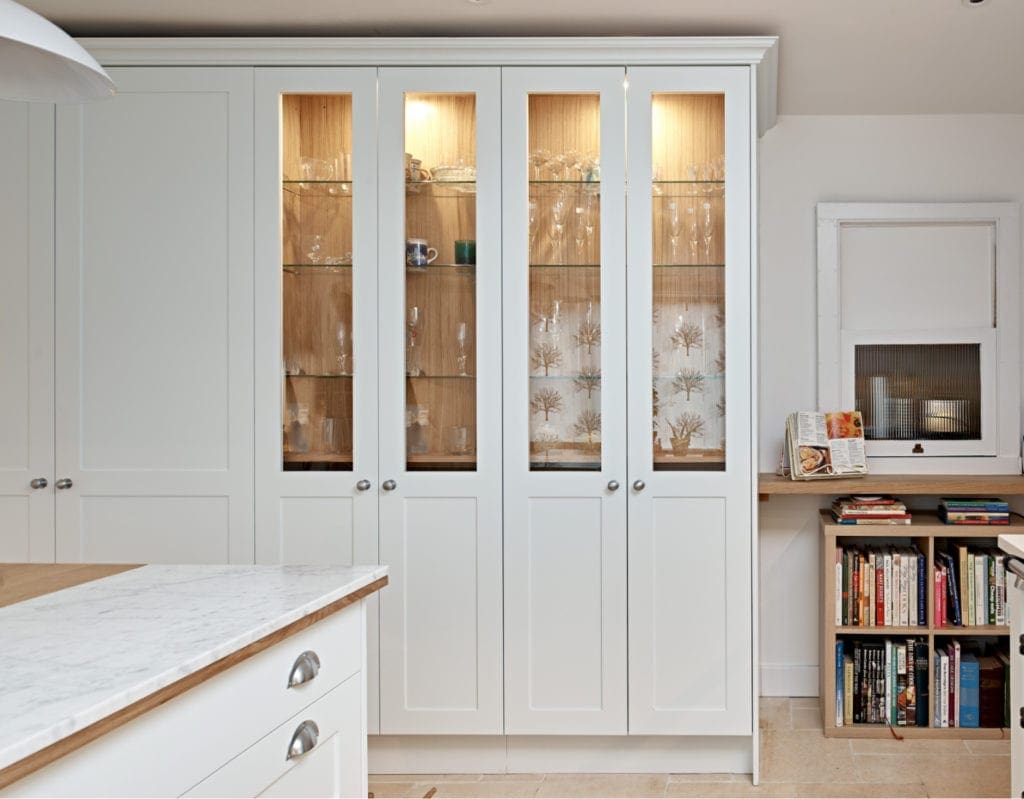 No longer an overcrowded cupboard, the pantry morphed into a well-balanced space structured by thoughtfully designed storage solutions.
We continued the light, bright theme with solid oak and pristine quartz worktops in each room, along with new Ca' Pietra limestone flooring in the kitchen.
To add a modern splash of colour, we switched the retro tiles bordering worktops in the kitchen with ones handmade by Marlborough Tiles, in soft shades of blue.
Blending the old with the new
While our client wanted a dramatic home makeover, he was keen to retain some original elements, including the warm terracotta tiles in the utility room and pantry.
The tiles needed restorative work, so we sourced a skilled refurbisher who did an excellent job bringing them back to their former glory.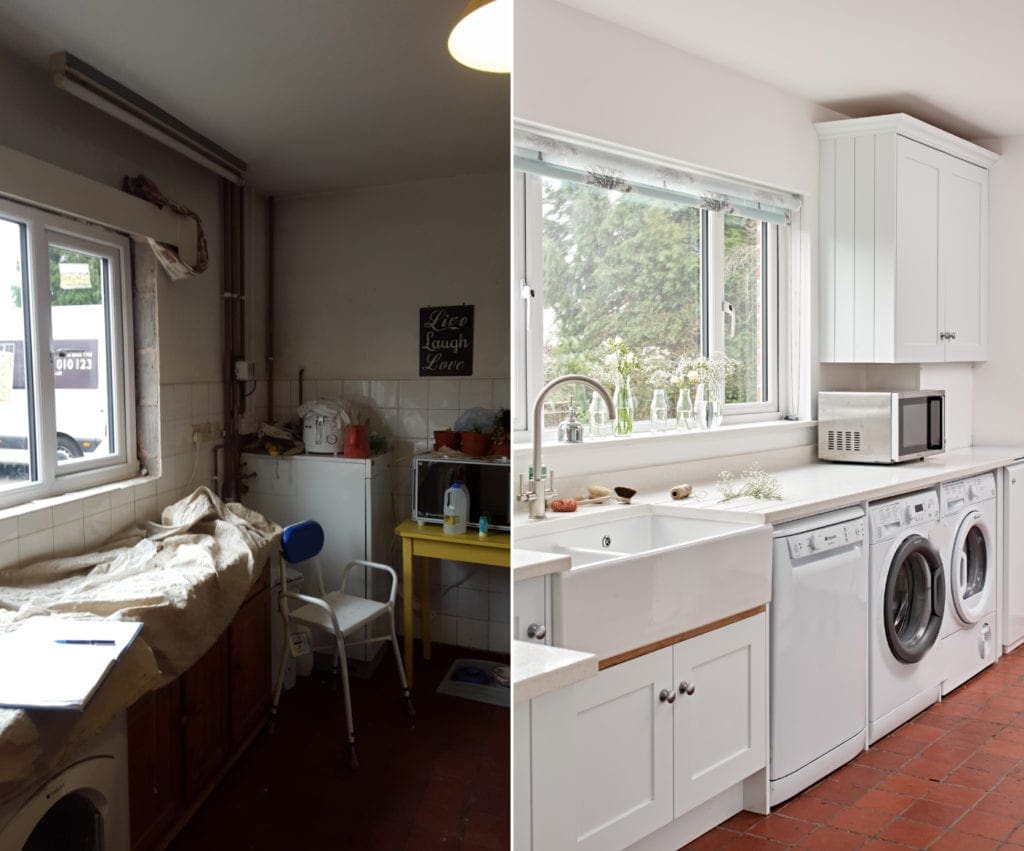 We also incorporated a piece of history in the kitchen island worktop: an exquisite piece of marble that had been in the property for 35 years. It makes for a striking focal point in the kitchen, doubling as the perfect spot for casual family meals and drinks with friends.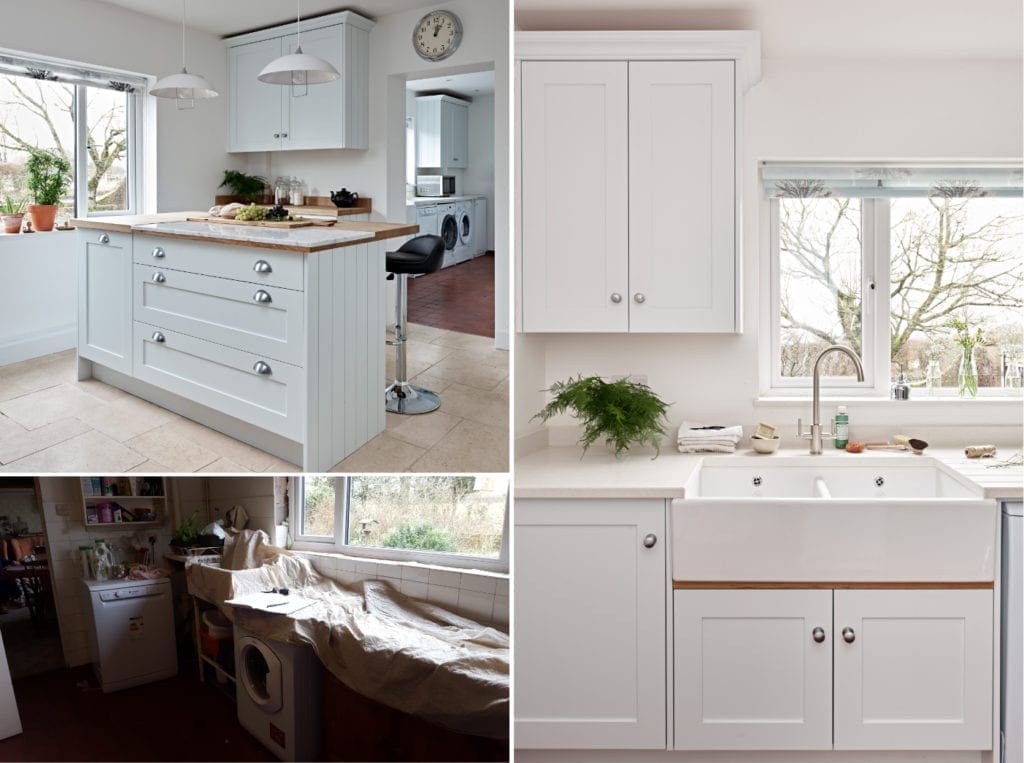 A brand new black Aga replaced the old green version in the kitchen – another nod to the traditional character of the property.
To add an element of classic charm to the utility room, we installed a stylish Belfast sink.
What a fantastic project and client. The contrast between the before and after shots serves to illustrate the transformative power of bespoke cabinetry, craftsmanship, and design.
If you're keen to get started on your home makeover, please get in touch, and we can arrange a virtual consultation.
View all projects